Add a BLAST of flavor and antioxidant power to your water.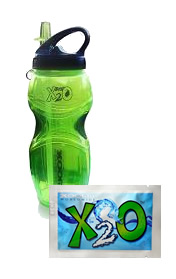 Xooma Worldwide's premier product, Xtreme X2O, is one of the most powerful products ever seen in the beverage industry. Just one sachet can transform your water into a supercharged health and fitness beverage. By adding Xtreme X2O to your water, you begin to hydrate your body at the cellular level, provide the vital minerals and electrolytes your body needs daily, and give yourself a health promoting "alkalinity boost" to counteract the acidic damage caused by today's fast-paced lifestyles.
If you're already using Xooma's Xtreme X2O in your water, chances are you're already familiar with the powerful health and fitness benefits this unique product provides. And while Xtreme X2O makes your water taste cleaner and fresher, it doesn't provide any additional flavor. So, your "transformed water" (using Xtreme X2O) always tastes clean and fresh, but it still tastes like…water.
The Problem:
If you're like many people in today's society, you probably drink water because you know how important it is for your long-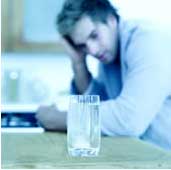 term health and well-being. If you're one of the people joining this fast growing trend of "water drinkers" around the world there's a good chance you're doing it mostly for the health benefits rather than the actual taste of water. Let's face it… many health-conscious people will quickly admit they've simply "learned to like water."
If you're one of the many people around the world who still haven't joined this fast growing population of "water drinkers" it's probably because you just "don't like the taste of water." If so, who could blame you? After all, there are hundreds of flavored beverage choices on the market today – all of which offer more flavor and taste than just plain water.
The Bigger Problem:
Drinking water is critical for your good health and most people don't drink nearly enough. Our original product, Xtreme X2O transforms
your water into a powerful health beverage designed to hydrate, mineralize, and revitalize your body. But if you're not drinking water (or enough water) simply because you don't like the taste, you're risking your health every day. In addition, you're missing out on the benefits of a product like Xtreme X2O.
It gets worse…
Instead of water, many people choose the popular "sports" & "energy" beverages on the market which are typically loaded with things like sugar, artificial sweeteners, artificial colors, and chemical preservatives. These beverages can NOT take the place of water and rarely, if ever, offer any real health benefits.
The Solution:
Faced with the reality that a large population of people around the world (especially children & teens) would only drink more water if it "tasted good," we set out to create the worlds first 100% natural water flavoring product. By doing this, we would not only give people any easy and enjoyable way to drink more water but we'd also make it easy for them to enjoy the numerous health benefits our original product – Xtreme X2O.
100% Natural.
No sugar. No artificial sweeteners, flavors, colors, or preservatives.
Zero calories. Zero carbohydrates.
No glycemic value. Won't raise blood sugar levels or trigger fat storage in the body.
With a minimum ORAC rating of 3000, just 2 packets of X2O Blast delivers the antioxidant power of approximately 10 servings of fruits and vegetables
110% of the Recommended Daily Allowance of Vitamin C (per serving).



X2O BLAST comes in small "pocket sized" packets (2.6 grams each). They're easy to carry and ready to use when you are.
X2O BLAST allows you to choose your own flavor strength. For full/ strong flavor, you can use the entire packet in 24 oz. (or 750 mL) of water. For a lighter flavor, we suggest using half of the packet in 24 oz. (or 750 mL) of water.
X2O BLAST transforms plain water with a "blast" of flavor while it provides incredible antioxidant protection for your body. This 100% natural, zero calorie beverage allows you to enjoy the health benefits of drinking water by simply making your water taste great. Best of all, you can dramatically increase the health benefits of your water by adding an Xtreme X2O sachet with your X2O BLAST.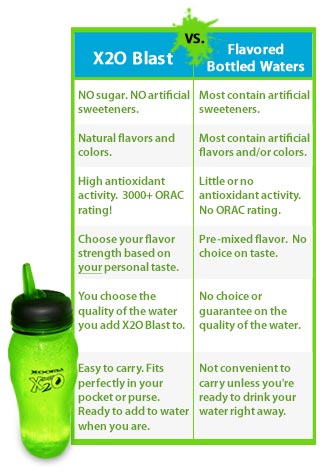 X2O BLAST is the perfect beverage choice for children and teens. Instead of sugary drinks which contribute to overweight problems and artificially sweetened drinks loaded with chemicals, parents can now give their children a great tasting beverage that's 100% natural and healthy! X2O BLAST has all the taste kids crave with none of the guilt or worry for Moms and Dads.
Look how X2O BLAST compares to popular beverages marketed to children and teens.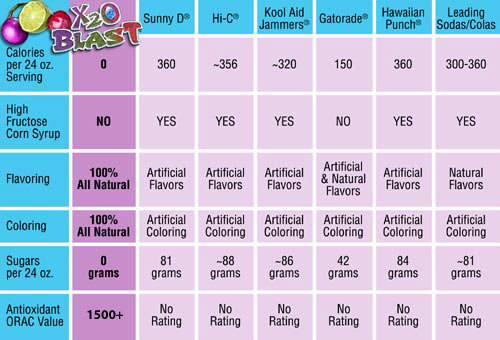 "Healthy" Never Tasted This Good!
If you're serious about your health or your family's health, Xtreme X2O and X2O BLAST are the right beverage choices. Considering all the unhealthy beverage choices in the marketplace today, X2O BLAST just might be the only product that promotes good health without sacrificing great taste.
Discover how good "healthy" can taste by adding this incredible product to YOUR water. Join Xooma and order your X2O BLAST today!
INTRODUCING OUR
NEWEST FLAVORS
ORANGE CRAVE
CHERRY LIME